What is Venetians Blinds?
Venetian blinds are super versatile and all-time classics. It rose to prominence a century ago in the US, as many people were fond of its easy maintenance and durability. This kind of blinds features horizontal slats that are strung together by the cord system. Today, it is still a popular choice among many companies, hotels, institutions and household. Made up of several horizontal slats, the Venetian blind can be easily controlled – from fully open to fully shut. You can adjust the amount of light and privacy that you'd need.
PVC Venetian blinds
PVC Venetian blinds are made with waterproof synthetic material and are water-resistant. Therefore, they are perfect for damp home areas like kitchen and bathroom as water will not penetrate into the material, giving it a long-lasting modern look. Other than the most popular black and white taping combination, this man-made Venetian blind comes in various modern colours range to match with your interior concepts. You can play with multicoloured tones for a single set of PVC Venetian blinds to bring out the unique customisation colour concept.
Timber Venetian blinds (Wooden Blind)
Timber Venetian blind is also known as Wooden blind is made of natural timber material. Unlike PVC blinds, timber blinds are water-resistant to a certain level, but not able to perform the waterproof function. This means that water has to be wiped off as soon as possible to prevent any penetration. This highly versatile natural material provides a simple, natural, yet luxury to your home decoration. Our colour range for timber blinds gives a timeless look to your interior from contemporary to rustic designs.
What causes price differences
and how do we identify it?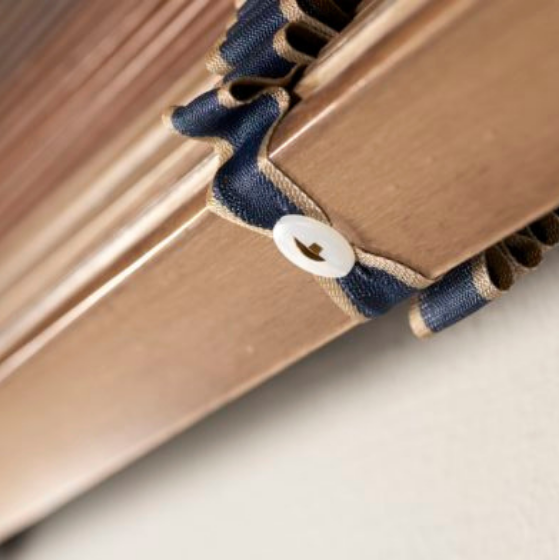 Easy-rise System
With an Easy-rise system, you will be able to pull your Venetian blinds up and down smoothly and with minimum strength. This makes your life easier and also increases the life span of your blinds. This is especially important if your window is huge. You can also select our ultra-light material to minimize the weight of the blinds.
Privacy System
Normal Venetian blinds cannot be closed tightly, leaving a gap between the slats when you leave the slats closed. This means that sunblock control and personal privacy near the window cannot be maximized. With our privacy system, you can rest assure that they will be no gaps between slats.
Go motorized with Somfy motor
Instead of the traditional pulling system, motorize system is also available for our Venetian blinds. Somfy is one of the most well-known motorized brand worldwide, from France. For more information, consult us today for more details about linking your Venetian blinds with Somfy motorized system.