What is Night Curtains?
Night curtains are a must have in every home in Singapore! Especially for those who live in HDBs and condos. In an urban jungle like Singapore, night curtains help to add to the illusion of peace and tranquillity that every one hope to achieve with their home. Night curtain help to prevent light and sound from entering a room it is hung in. Night Curtains can be made with privacy-inducing fabrics that help to act as a barrier to sound and light. With these curtains, you need to worry about noise from noisy neighbours or from passing vehicles even if you live near busy roads.
Dressing For Contemporary Homes
The curtain can be made of heavyweight fabric, lightweight fabric, or lining with thin material. It is extremely popular among our customers who choose eyelet for their window to mix and match different fabric designs together, to create a unique customization for their window. If you're looking for a modern style for your homes then these contemporary curtains are ideal for your window dressing.
What is so special about our Night Curtains?
Our Night Curtains are made with top of the line material while keeping the cost affordable for everyone. Our night curtains come in a large variety of design and colour to suit the different designs and style of houses. With different degree of blackout and noise cancellation, there's a design and fit to suit every consumer from our large range of Night Curtains.
What's the difference between Night Curtains and Blackout Curtains?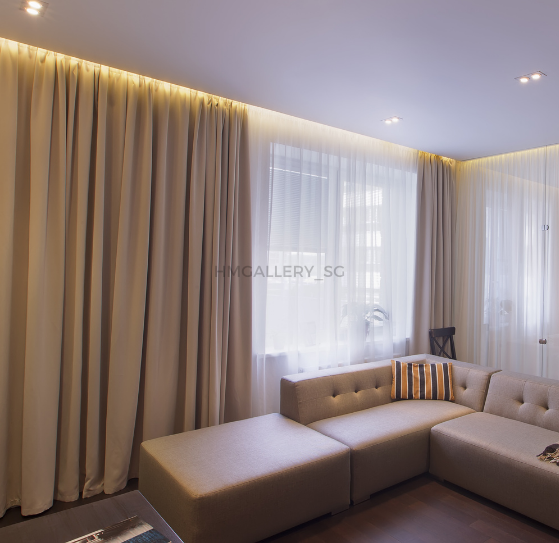 Normal Night Curtains
Normal Night Curtains are what we can most commonly find in all Singaporean Homes. They typically only block out 50% to 70% of sunlight and privacy. These curtains are normally found in the living or study area of homes.
Dimmed Out Curtains
Dimmed Out Curtains are made out of thicker material compared to Normal Night Curtains thus they will have better UV and privacy blocking properties. Materials for Dimmed Out Curtains are normally made out of 3 layers thus allowing them to block out 75% to 90% of sunlight in a room.
Blackout Curtains
Blackout Curtains materials are normally considered the thickest as they are able to effectively block out 100% of sunlight in a room. They are normally made with an extra layer of PVC sewn into the fabric which help makes it 100% blackout. However, some blackout curtains do require to be dry cleaned instead of just normal washing!